Friday, March 19, 2004
blazé
This card is particularly meaningful to me, as it hits pretty close.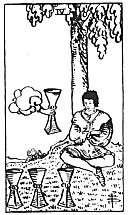 "Turn up the FOURTH CARD; place it below the Significator, and say: This is beneath him. It shews the foundation or basis of the matter, that which has already passed into actuality and which the Significator has made his own."
Four-of-Cups
. "A young man is seated under a tree and contemplates three cups set on the grass before him; an arm issuing from a cloud offers him another cup.
His expression notwithstanding is one of discontent with his environment. Divinatory Meanings: Weariness, disgust, aversion, imaginary vexations, as if the wine of this world had caused satiety only; another wine, as if a fairy gift, is now offered the wastrel, but he sees no consolation therein.
This is also a card of blended pleasure."