Friday, September 10, 2004
Olden days, simpler days.
I am feeling incredibly frustrated and confused - in fact I feel exactly as I used to all throughout July, probably this is just my usual mode of being - utterly ineffectual. So I browsed through some german retro site and found a certain relief in seeing this picture: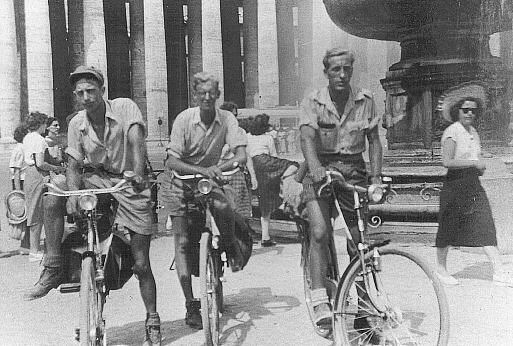 Rome, St. Peter's square, July 29, 1950.
Arrival of three Dutchmen after a sixteen days' cycling pilgrimage from Delft to Rome.
At the www.maporama.com site I found out the following: distance between Delft-Netherlands and Roma-Italy -
1348 km on car roads
. Look at these guys' luggage: do you even see any luggage to speak of? Just two simple rather small rear panniers at best, and the bundle you see on the back-rack of the right-most biker is just a wool-blanket. Any questions? That's exactly it - why is it that folks seemed to travel so much lighter in those days, and just look at those bikes they used...
Beautiful.
Look at the
map
- I think there were mountains on the way :-0